| | | |
| --- | --- | --- |
| | THE END OF AN ERA | |
February 2, 2004
It is with deep sadness, that I report the passing of a dear friend, WSNJ F. M. Radio.
WSNJ F. M. Radio was born to N.J. and WSNJ A. M. Radio in Bridgeton, New Jersey.
WSNJ F. M. was very involved in church, social and community affairs and was influential in bringing prosperity to the region. A decorated veteran, WSNJ F. M. also helped to secure America's freedom. WSNJ F. M. was much loved by thousands of loyal friends throughout the Delaware Valley who now mourn his untimely passing.

In spite of WSNJ F.M.'s popularity and interest in political affairs, he consistently refused to get involved in party politics and never yielded to the temptation of accruing wealth or misusing his influence. Until the bitter end, WSNJ lived frugally and did not even own a computer.

This evening, February 2, 2004 at 6:30 PM, WSNJ F. M. Radio breathed his last breath of airwaves. He was the latest tragic victim of a ruthless band, which in recent years has been systematically luring members of the Radio family into subjection by offering large sums of money and empty promises to continue the traditions of local Radio families. For many years the band was held in check by strict laws, but more recently, restrictions were relaxed, allowing it to run roughshod over our nation, destroying the last remnants of democratic freedom as expressed by the local Radio family.

An article printed in the New York Times, reports that WSNJ F. M. Radio was the 66th victim of this particular band. Other bands have been even more successful in their attempts to destroy the Local Radio family.

A spokesman at the deathbed of WSNJ F. M. Radio said late this afternoon, "WSNJ has been a fighter and will continue to be a fighter to the end."
The end came at exactly 6:30 P.M. today.

The few survivors of Local Radio family encourage their many friends to offer prayers in lieu of flowers and condolences.

Ralph V. Harvey
---
Following is an excerpt of an article published by the New York Times, February 1, 2004
Vintage Radio, Down to Farm Reports and School Menus, Is Signing Off
UPPER DEERFIELD TOWNSHIP, N.J., Jan. 29 - As radio stations go, it's not fancy. The microphones appear to belong to the 1940's, and some do. There is not a single personal computer in the building, though a typewriter sits on one desk and is used every day. The format? Call it country nostalgia: polka, school lunch menus, farm reports, hunting and fishing news and pet advice. One of the most popular slots is a call-in show called "Country Store," during which people try to sell three-quarter-ton pickup trucks, tractors and, at least once, a cow.

WSNJ, which sits in a farm field just outside Bridgeton, is the radio station that time almost forgot. But not for much longer. The family that nurtured it for more than 50 years is selling. The much-sought FM license will go to Radio One, a hip, urban-oriented company with 66 stations. Radio One intends to move the operation north to Pennsauken, where it can broadcast across the Delaware River to a bigger and more lucrative Philadelphia audience. The AM side is also being sold, to the mayor of nearby Millville, who says the operation is too successful to change or move, so he won't.

But the heart of the operation is the FM side, which has more power and a far bigger reach to four states. Some people who know radio say that when WSNJ-FM goes dark, probably sometime Monday afternoon, so will a rich part of the state's history.

This is absolutely the end of an era," said Scott Fybush, editor of North East Radio Watch, an online publication. "WSNJ is very popular among folks like me who study the history of radio, simply because it presented a style of radio that died in most places years ago.
---
Personal Comments of a Mourner
I wept on 9/11 as alien terrorists attempted to bring America to its knees. They were successful in a manner which was not intended. Many Americans fell on their knees in prayer to God.

But most Americans have stopped praying and returned to business as usual. I am crying.

I cried Sunday, when the majority of fans watching the Super Bowl cheered a group of gyrating screamers (who call themselves musicians) as they "accidentally" exposed themselves on stage. They cheered again when a streaker ran out onto the field. Most Americans watching on TV couldn't have cared less. Law enforcement agencies did all they could to protect the spectators from an attack by alien terrorists, but the people they sought to protect cheered the nation's moral destruction from within.

I am crying today because many Americans are willing to sell our local and national freedoms for money. What communism was not able to do and terrorists cannot do from without, greed is successful in accomplishing within our own borders. And the perpetrators are Americans. There are greedy CEOs, greedy lawyers, greedy politicians and many greedy citizens who are destroying our country.

It is time for Americans to get on their knees again and pray to God for mercy. Perhaps there is still a chance to do something about the situation. That is why I am writing this -- with tears in my eyes.

Ralph V. Harvey, February 10, 2004
---
WSNJ A. M. Radio is Alive and Well!
Although the untimely death of WSNJ F. M. Radio saddened many in the Delaware Valley, I am relieved to report that his widowed mother WSNJ A. M. is faring very well with support from Mayor Jim Quinn of Millville and many others too numerous to mention.

She celebrated her 70th birthday November 17, 2007 and numerous well-wishers came to help her celebrate.

Soon after WSNJ F. M. Radio's death, WSNJ A. M. Radio gave birth to another child, WSNJ Internet Radio. WSNJ Internet Radio is growing rapidly. Who knows, perhaps this child may someday serve and affect more lives around the world than WSNJ F. M. could ever have hoped. I wish N. J., A. M. Radio, WSNJ Internet Radio and the entire local Radio family continued success and God's blessings. Read my blog of December 28, 2007.
RVH
The following photos are from WSNJ A. M. Radio's 70th birthday celebration. You can find more here: www.WSNJAM.com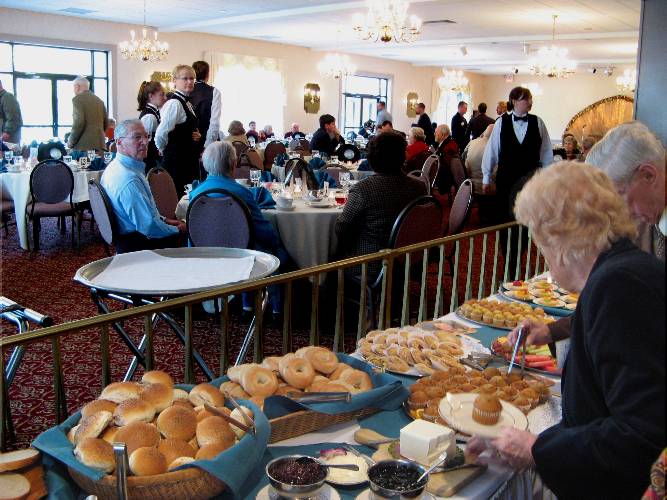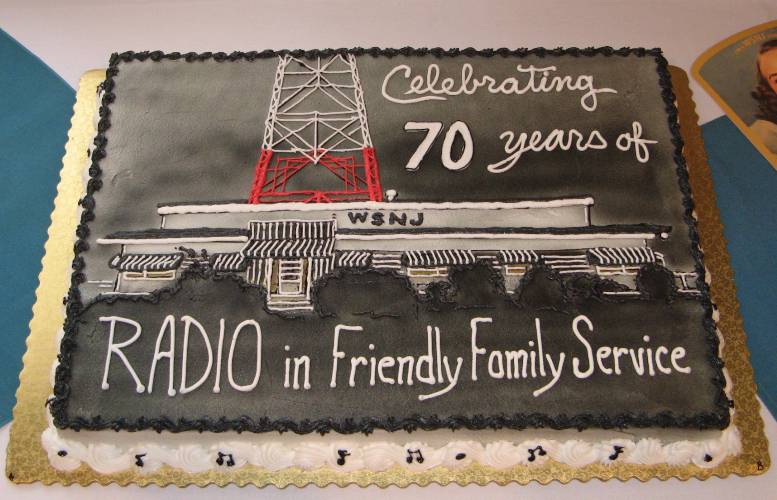 (Click on photos to enlarge and then click the return button to close)