| | | |
| --- | --- | --- |
| | 1983 HONDA MOTORCYCLE | |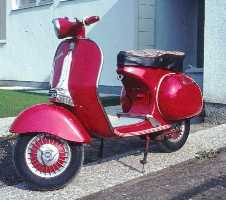 I have owned around 100 motor vehicles in my lifetime, but in 2016, I got my first true motorcycle.

Back in the early seventies, someone gave me his Vespa 150cc, which I restored and sold, but it was not a true motorcycle.

In August, 2016, someone gave me his rare 1983 Honda 550 (actual 572cc) Nighthawk. Step one was a powerwash and step two getting a key made for it. My brother-in-law saw it and said "I'm jealous!" I sold it to him for what I had in it and he had it running the next day!





The Honda 550 Nighthawk was sold in the USA only in 1983. It came in two colors; Candy Presto Red, and Black. Mine is red. The headlight is rectangular, and the inline-overhead valve four cylinder engine has a 4 into 2 exhaust.

I grabbed the following information off the web from various sources.

This is a cruiser, but the 550's handling is as good as its engine. It is stable, turns easily, and has good cornering clearance - the footpegs touch first as an early warning system, and then only during the most spirited riding. Pushed beyond that, the 550 wallows slightly in sweepers with a 150-lb rider, the result of over-sprung, under-damped rear shocks.

What about performance? Look at the horsepower and torque figures, 75 bhp at 9500 rpm, 36.5 lb.-ft. at 8000 rpm. Potent stuff for a 550 Four, and the reasons for that power output lie in the engine's genealogy: air-cooled, DOHC, link-plate cam chain, four valves per cylinder, offset rocker arms with hydraulic lash adjusters, plain bearing crankshaft, helical primary gears, hydraulic multi-plate wet clutch, six-speed transmission, shaft final drive. This is the smaller version of Honda's newest inline Four, introduced in the Nighthawk 650 and Nighthawk 550 for 1983. The engines share crankcase castings, clutch, transmission and cylinder head. The 572cc 550 has lower primary gearing and the same 60mm bore as the 650; stroke is shorter; 50.6mm to 58mm. To work with the 50.6mm stroke, the 550 has shorter connecting rods, crankshaft throws and cylinders. The crankshaft, designed for the 572cc version, is lighter with 1mm smaller diameter journals; the cases are machined to fit.

The engine is designed to be compact. It is narrow, the alternator mounted behind the cylinders, overdriven off the crankshaft by a link-plate chain. It is short, the transmission shafts staggered vertically instead of laying one behind the other. It's also designed for low maintenance. The hydraulic lash adjuster automatically take up clearance between valve stems and rocker arms - meaning no valve adjustment is necessary - and pump down if the engine is over-revved, increasing clearance and reducing the chances of a mis-shift bending the valves. The transistorized electronic ignition is not adjustable, and has electronic advance. The hydraulic clutch, like hydraulic disc brakes, is self-adjusting.

Low maintenance doesn't mean low performance. The 550 has the same cams as the 650, and, used with the smaller engine, those cams are closer to the high-performance grinds sold by aftermarket engine builders than are most stock camshafts. The four Keihin CV carbs have oval throats, 26.8mm at the venturi, 30mm at the throttle plate, with lightweight throttle slides and thin diaphragms for instant throttle response. Combine the cams and the carbs with the lighter crankshaft and you've got a quick-revving, free-winding 550 that feels faster than anything in the class.

It feels fast because it has a big jump in horsepower and acceleration at 7000 rpm, gaining engine speed from there at an astonishing rate right up to the 10,000 rpm redline. It pulls well from 4000 rpm, well enough to leave lights quickly and have fun gaining speed, but then there's that kick at 7000 when the Nighthawk comes on the cams, and off it goes.

There's nothing to distract the rider from that magic rush of the tach needle toward redline, since the rubber-mounted engine is one of the smoothest ever put in a motorcycle. That glass-smoothness adds an eerie quality to the soaring tach and the kick-in-the-pants acceleration. Slam the 550 into second gear at redline and the front wheel comes up and floats a foot or two off the ground, slowly settling as the bike continues to gain speed. Keep the Nighthawk near the redline, shifting quickly, and a rider on anything short of a sporting 1100 will have to work to keep up or pass. Street impressions send a strong message, that this is the most potent, quickest, fastest 550 around.

The Nighthawk 550 has a five-speed transmission with an additional, taller cruising top gear added made for highway cruising at a leisuerly pace. At 60 in sixth, the Nighthawk is relaxed on the highway, but accelerating quickly around slower traffic demands at least two downshifts, and headwinds or upgrades often require fifth gear.

Specs and General Information:

Model: Honda CB 550 SC
Year: 1983 (1984 in Canada)
Category: Allround Sport/Cruiser mix
Rating: 78.4 out of 100. Show full rating and compare with other bikes

Engine and Transmission:
Displacement: 572.00 ccm (34.90 cubic inches)
Engine type: In-line four, four-stroke
Power: 75.00 HP (54.7 kW)) @ 9500 RPM
Torque: 36.50 Nm (3.7 kgf-m or 26.9 ft.lbs) @ 8000 RPM
Top speed: 186.7 km/h (116.0 mph)
1/4 mile (0.4 km): 12.640 seconds
60-140 km/h (37-87 mph), highest gear: 10.800 seconds
Max RPM: 10000
Bore x stroke: 60.0 x 50.6 mm (2.4 x 2.0 inches)
Valves per cylinder: 4
Fuel system: Carburettor. Keihin CV 26.8mm
Fuel control: Double Overhead Cams/Twin Cam (DOHC)
Cooling system: Air
Gearbox: 6-speed incl. overdrive
final drive: Shaft drive (cardan)
Fuel consumption: 4.90 litres/100 km (20.4 km/l or 48.00 mpg)
Greenhouse gases: 113.7 CO2 g/km. (CO2 - Carbon dioxide emission)
Exhaust system: Double chrome pipes

Chassis, Suspension, Brakes and Wheels:
Frame type: Conventional steel frame
Rake (fork angle): 29.0°
Trail: 107 mm (4.2 inches)
Front suspension: Air-adjustable
Front brakes: Single disc
Rear brakes: Expanding brake (drum brake)
Physical measures and capacities
Weight incl. oil, gas, etc: 206.8 kg (456.0 pounds)
Wheelbase: 1,440 mm (56.7 inches)
Fuel capacity: 12.11 litres (3.20 gallons)
Reserve fuel capacity: 1.89 litres (0.50 gallons)
Other specifications
Starter: Electric