| | | |
| --- | --- | --- |
| | ISLANDS 17 DAYSAILOR | |


My sister and brother-in-law came over for dinner and said, "Our neighbor across the street has a sailboat for sale."

I drove over and looked. It appeared to be a Sumner Islands 17 in excellent condition. I had bid on a 12-foot and a 15-foot Sumner Islands (see below) in the past couple of years, but other eBayers apparently wanted them more than I did.

My offer for the boat was accepted and I towed it home. I later discovered that I had an Islands 17 built by Ocean Yachts, of Patchogue, Long Island. Ocean Yachts built this and other boats from the late sixties until 1979, when it sold out to the Sumner family. Ocean Yachts apparently built the Islands 17 only in bright yellow, but the Sumner Islands boats had mostly white hulls. The Island 17 is basically a copy of the Tanzer 16, but the slanted transom gave it added length.







The main and furling jib were in good condition. The original plywood inside the transom where the gudgeons and motor mount are attached had delaminated, so I replaced this with marine plywood and glassed over it. I also refinished the aft hatch cover and made a new rudder head.














The original trailer needed a lot of work and only had 8" wheels, so I put the Islands 17 on a Cox tilt trailer with 12" wheels, a better winch and nice mast crutch.





The hull had a couple of scratches, some of which the previous owner tried to patch with resin. The original color was bleached out and when I removed the numbers, it became quite obvious, so I repainted the hull.







Finally, I made a rear mast crutch and bought new spreader boots. The Islands 17 was sold for $1500.









---
Someone in Oklahoma sent me this picture of his Ocean Yachts Islands 20.

---
The Puzzling History of Ocean Yachts and Sumner Boats
Around 1979, Ocean Yachts sold its molds to Arthur Sumner and his son, Jonathan, of Amityville, NY. Sumner Boat Works added its name and continued building the same line of boats with few changes using Hart sails.

The Sumner Boat Works was located at the end of South Bayview Avenue, in Amityville, Long Island. The South Bay Sailing Center is located there today.

Sumner Boat Works sold the Sprite 8, Sumner Islands 12, Sumner Islands 15, Sumner Islands 17, Sumner Islands 19, and the Mark 25.

An archived article in the New York Times about a boat show reads:
"In your search for innovative ideas, don't overlook older models. In the boating industry, newer is not necessarily better. Sumner Boat Company of Amityville, L.I., plans to show its Mark 25 for the third year. The boat features a radical sail plan with a 40-foot mast stepped unusually far forward on the boat. The sailboat, which sells for about $22,000, carries a large mainsail and small jib." (The article was printed Monday, January 8, 1990, on section C, page 11 of the New York edition.

In forum talk it has been claimed that Sumner didn't build the Mark 25, but just sold the boats. Stephen Stambleck wrote on SailNet.com (March 2009):
"The first five Mark 25s were built to order by Ontario Yachts in Toronto. The designer was the founder of C&C Yachts" George C. [Cumbertson] Another 12 were built by Eli Laminates in Long Island. After that, construction stopped due to the crash of the industry. Additional, larger models, were designed but never built."

I found the following two ads on eBay that advertised several larger models from 31' to 37'.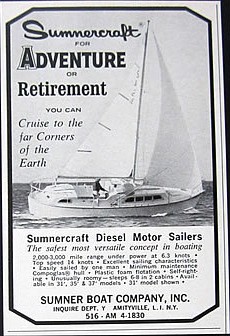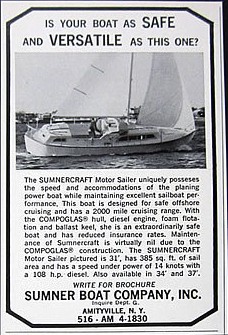 I received the following email from a man named Vinny, who worked for Sumner:
I worked at Sumner boats way back in the early 70's... on and off for the next 20 or so. I've lived in Amityville for 46 year's... I still go to the end of Bayview Ave and think of my youth and day's spent employed at Sumner Boat. Heck, I go back so far that I remember Bob Peters, the working foreman and master mechanic at Sumner Boat riding his bicycle to work as I waited for my bus to take me to Park Ave school. Bob lived just on the other side of Montauk Hwy and made his commute on good weather day's. I liked Bob very much and learned a lot from him. Mr Sumner was in my opinion hard on him and quite demanding... I helped build his 8' dink and a 10'er. They could be rowed or sailed. I still have a brochure for the 8'er. I also remember the larger boats he made. Three or so were under construction at the time. GM diesels sat in the machine shop next to a motor sailor and a 30' or so cruiser. I saw one going on a sea trial... It went pretty good. One was an upside down hull of frame work with strips of wood laid down like planking, then covered with epoxy, glass cloth and I think wire mesh... If any of the motor sailor's or larger Sumner Craft still exsist please email me. Vinny

I emailed Vinny the two small clips shown above and he immediately recognized the boats.

I read on a forum that around 1995, The Sumner factory caught fire and was destroyed including most of the tooling and some molds. One source on WoodenBoat.com said that Sumner produced boats from 1972 until 1997, but another forum entry said "Sumner was in business long before 1972. That is around the time they switched to all glass boats. They were proponents of glass covered strip planked boats in the 50's and 60's."

Justin Sumner wrote on www.voile.org in 2006, "My father, Jonathan and his dad, Arthur ran Sumner Boat Company back in the day. Unfortunately all the molds have been destroyed from the Sumner line."

At some time, the factory in Amityville was purchased by Bill Menger of Menger Boat Works. Menger became well known for his catboats. An obit for Bill Menger (2004) reports, "In 1989, a fire nearly shut down the business, destroying the molds for the fiberglass hulls. But father and son decided to continue what they started, and reopened Menger Boatworks in an old seaplane factory in Amityville, with sliding doors that open onto Ketchum Creek." After the fire they apparently specialized in catboats. Menger catboats are now produced by Thompson Boatworks.

I could not ascertain whether the fires mentioned are the same event with faulty dates or if there were two different fires.

Vinny wrote me, As far as a fire goes, this did not happen. I know this to be fact for two reasons. 1) I would have heard about it, and 2) the place would not have survived, as it was loaded with saw dust, reducers and the likes.

If anyone can shed more light on the puzzle, I would be happy to post it here.

Below are pictures of the Sumner Islands 19, a neat little pocket cruiser.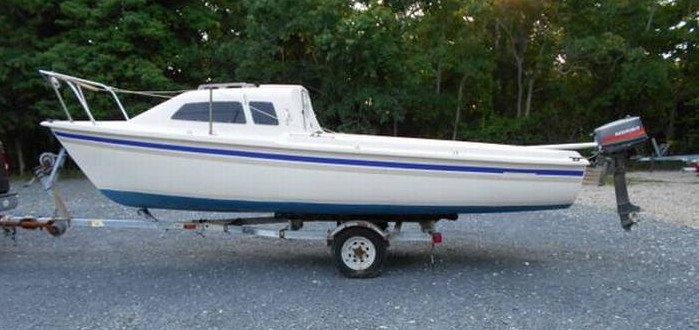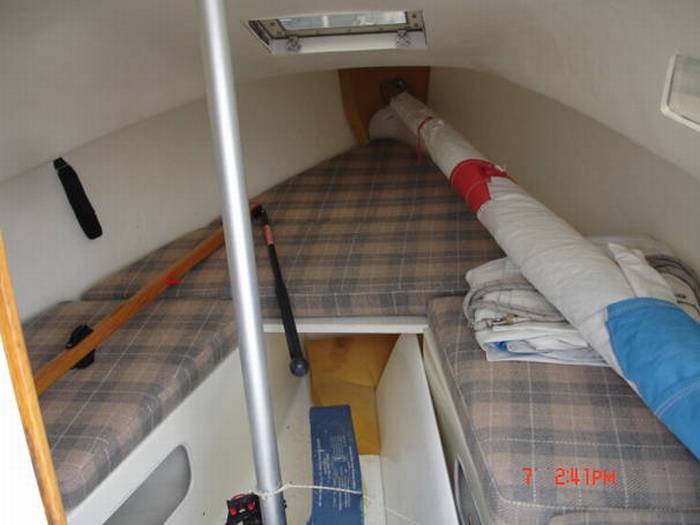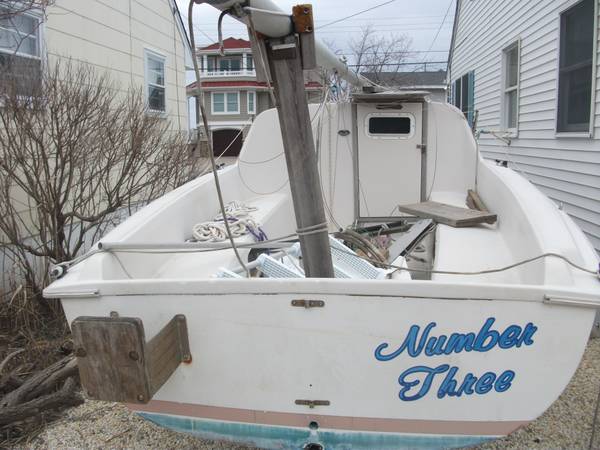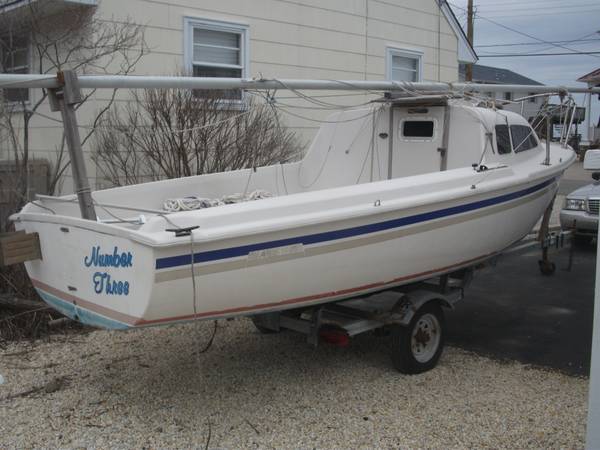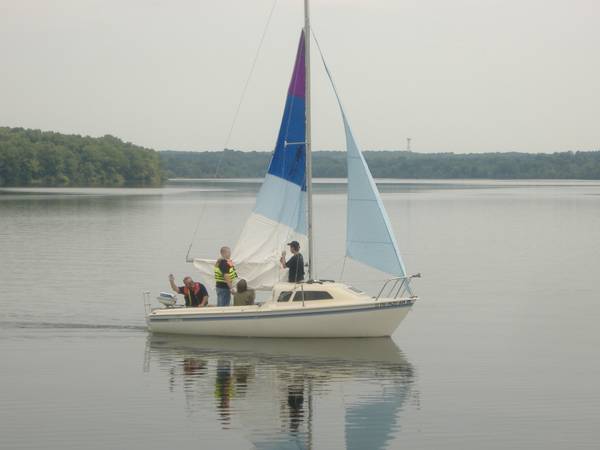 ---